Current Mood:

blank

Current Music:

Nine Inch Nails
If you find the Archive fun and valuable, please toss whatever you can in the pot, or consider signing up as a volunteer. We know that not everyone is able to offer financial support -- and we're super happy that we're able to keep the Archive free for anyone who wants to use it -- but even a small donation can make a big difference. Donating at least US$10 makes you an official member of the OTW with the right to vote in our next Board election, and donating more can net you awesome thank-you gifts like OTW stickers, a coffee mug, or a tote bag. And anything you can give will earn you our undying gratitude.
Here's the donation link again:
http://transformativeworks.org/how-you-can-help/support
The Archive is a project of the Organization for Transformative Works -- a nonprofit that runs entirely on donations and volunteer work by fans, for fans. We don't do ads and we don't charge for any of our projects -- not the Archive; not Fanlore, our fannish history wiki; not our academic journal, Transformative Works and Cultures; not our fan culture preservation project, Open Doors; nor our legal advocacy work.
Current Mood:

calm
mike
at
<i>The Woman in Black</i> opening weekend thread
Welcome to Spooky Poo's very first horror film open thread! Harry Potter, er, Daniel Radcliffe returns to U.S. audiences today as Arthur Kipps, a widowed lawyer traveling to a town with a secret in
The Woman in Black
. I'm hoping to get out this weekend to check it out. Share all your WiB schemes and screams right here! Please try to keep comments spoiler free as this is the opening weekend. Fear her curse and enjoy the film!
Originally posted by
Current Location:

home

Current Mood:

nerdy

Current Music:

Why not me - Within Temptation
Which team are you rooting for?
New England Patriots
Current Location:

home

Current Mood:

cheerful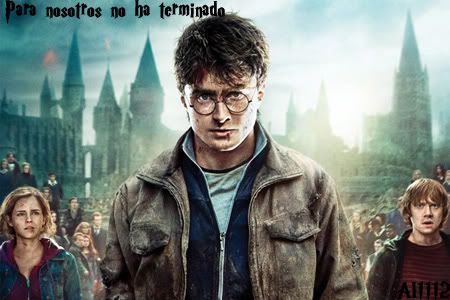 La hora ha llegado =)
La Comunidad
AI Sin Fronteras
ha publicado el formulario de participación para Amigo Invisible. si no sabes de que va esto, solo imagina un intercambio multifandom de fics y arts... ya lo imaginaste?
Es recibir como regalo de Navidad un fic/art con aquello que más te guste de un fandom, con tu pareja consentida, del fandom que más ames... Si suena interesante para ti y quieres participar o sientes curiosidad, ve
aqui
Besos!!!
Current Mood:

excited
I am participating, so... cross your fingers for me, will you??
Originally posted by
blue_succubus
at
Want to win an early copy of Bloodlines?
What a silly question. Of course you do!
All the rules are posted over on the
Bloodlines Contest page
on Facebook in the "Info" section. It's pretty easy to enter, but make sure you read everything carefully. Also, if copying and pasting the contest email address doesn't work, try typing it out to enter. Lots of prizes are on the line, including
Bloodlines
, the VA graphic novel, and other autographed VA books. The contest is open to all countries. Good luck!
Note: you may have seen an earlier post about entering this contest by changing your Facebook picture and status. If you entered that way, please check the Info section again since the rules had to be changed. You'll need to enter in the new email way to be counted. You don't have to keep the VA profile pic up anymore, but you're certainly welcome to if you'd like to show your support! :)
Current Mood:

giddy